Smart Limb Technology is Redefining Disability
Free Public Lecture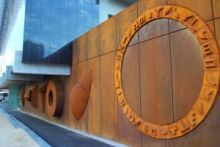 Theatre 1
207 Bouverie Street
Parkville
207 Bouverie Street
Further Details
This lecture will explore new smart technologies that can be incorporated into prosthetic limbs, with the potential to not just restore mobility but to enhance human abilities.
The outstanding performances of high-profile Paralympians in recent years have raised awareness and expectations about what is possible for those with a disability, and the level of support and integration that prosthetic limbs can offer. As this technology rapidly evolves, customised bespoke prostheses are becoming a more affordable and accessible option.
From an engineering perspective, smart prostheses require a different approach from that traditionally used. An intelligent, integrated lower limb prosthesis must mimic the functional characteristics of a human limb, which requires the application of biomimetic principles of lower limb joints and segments, and the ability to mimic neuro-muscular connectivity.
The look and feel of the device is as important as the functionality. It must balance the user's needs and personal experiences with acceptability of a prosthetic limb. Both personal and public perceptions influence an individual's decision to commission a device.
However, the evolution of orthopaedic engineering increasingly demonstrates the potential of new technologies to transform lives by creating life-changing products that redefine the experience and perception of disability and ageing.
Professor Saeed Zahedi is a visiting scholar, based in the United Kingdom, who has been a pioneer in lower limb prosthetics, an advocate for people without limbs and a leader in engineering for four decades.