Creating an Emotion Revolution: From Schools to Workplaces to Society
Booked Out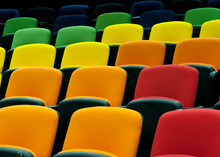 Theatre Q230, Level 2
Kwong Lee Dow Building
234 Queensberry Street
This event is fully booked. Please email education-events@unimelb.edu.au to be placed on the waitlist.
Emotions matter. They inform our thinking, decisions, creativity, relationships, mental and physical health, and everyday performance. The skills of emotional intelligence, including the ability to recognise and regulate emotions, are especially important for our success and wellbeing.
In this presentation, Professor Brackett will discuss the Yale Centre for Emotional Intelligence's studies on the role of emotions and emotional intelligence in key personal and organisational outcomes. Marc will also discuss the Center's evidence-based approach to teaching social and emotional learning, which has been adopted by over 2000 schools across the US and around the world, including Australia. Practical tools and strategies to develop emotional intelligence also will be shared.
This event is the first in the Melbourne Graduate School of Education Dean's Lecture Series 2018.
Please note that this event was originally scheduled for 14 March.