Tales of the Tigerman
Free Public Lecture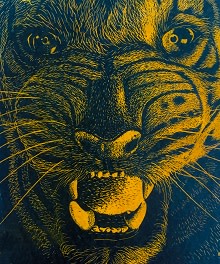 The Forum Theatre 153, Level 1
Arts West
Parkville
Further Details
The sacred forests of Meghalaya, India are believed to be protected by a spiritual tutelary deity called U Ryngkew U Basa who, whenever he makes himself visible, takes the form of a tiger.
In many of these forests, religious ceremonies in the form of rituals and spring dances are performed in honour of the Ryngkew, who is perceived as master of the wilderness.
Apart from the elaborate and complex religious discourse associated with the sacred forest, there is also a huge corpus of tiger lore that has been generated for hundreds of years and is still in circulation. Tigers occupy a very significant role in Khasi mythology. While the tiger is admired, respected and revered, it is also feared.
Khasi folklore suggests a subtle convergence of several perceptual and emotional features of the relationship between humans and tigers. Often portrayed as a bitter enemy of humans, he is also believed to be their greatest benefactor. This has given rise to a spectacular belief in the weretiger or tigerman, this power being an attribute of rngiew, one of the components of the complete human embodiment.
This lecture will draw on Professor Kharmawphlang's many years of fieldwork in the jungle villages of North Khasi Hills, where he has encountered men and women who are reputed to have the power to become tigers.
Image: Jim Corbett's Man Eaters of Kumaon