Australia, the Two Koreas and Asian Regional Security
Seminar/Forum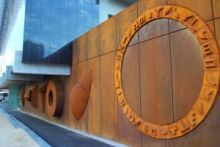 Yasuko Hiraoka Myer Room, Level 1
Sidney Myer Asia Centre
Parkville
Further Details
In conversation with Professor the Honourable Gareth Evans AC QC, Former Foreign Minister of Australia and Chancellor of the Australian National University.
Australia established diplomatic relations with the Republic of Korea (ROK or South Korea) in 1963 and since then the two countries have developed strong economic, political and military partnerships.
With the Democratic People's Republic of Korea (DPRK or North Korea), diplomatic relations were not established until 1974 – and within a year, after a fallout at the UN, Pyongyang had expelled the Australian ambassador and pulled out its embassy from Canberra. Always patchy, the relationship turned particularly sour in 2017, with Australian rhetoric on the nuclear issue not far behind that of US President Trump.
The years of the Hawke and Keating governments, with Gareth Evans as Foreign Minister from 1988-96, are remembered as the golden era for Australia's role in promoting peace and stability in the region, including improved inter-Korean relations.
In this conversation, Dr Jay Song, the Korea Foundation Senior Lecturer in Korean Studies at the Asia Institute will explore with Professor Evans past and present security developments in the region, focusing particularly on how to reduce tension, build confidence and avoid conflict on the Korean Peninsula, and drawing on themes developed in his recently published Incorrigible Optimist: A Political Memoir (MUP, 2017).
This is the first of the Asia Institute Korean Studies Inaugural Distinguished Speakers Lecture Series.