Climate and Growth: An OECD Perspective on the Future we Need
Free Public Lecture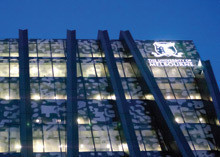 Fritz Loewe Theatre
McCoy Building
253-275 Elgin St, Carlton
This lecture will focus on what governments can do to boost economic growth and enhance productivity without locking the world into a high-emissions future.
Can we have strong climate action and robust economic growth at the same time? This question has long been at the forefront of national and international discussions on climate, and particularly so since the signing of the Paris Agreement in 2015.
The OECD report, Investing in Climate, Investing in Growth, lays out the economic case for integrating climate policy into the heart of mainstream economic policy and demonstrates that there does not need to be a trade-off between climate action, sustained growth and inclusive economic wellbeing. Combining pro-growth structural and fiscal reforms with coherent climate policy and the alignment of policies across the economy is the key to reorienting our economies towards a low carbon future and increasing resilience to the effects of climate change.