The Producers
Performance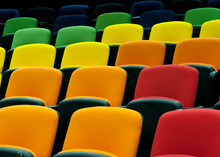 Union Theatre, ground floor
Union House
Parkville campus
Presented by Trinity College Music Theatre Society
Watch as failed Broadway producer Max Bialystock (Caitlin Tjandra) teams up with timid accountant Leo Bloom (Harry von Bibra) in a get rich quick scheme to put on the worst flop Broadway has ever seen!
Set in 1950s New York, The Producers tracks this odd couple as they sing and dance their way through coercing crazy kraut Franz (Finbar Todd) and clueless queens Roger (Alex Ferguson) and Carmen (Will Carr) into putting together the outrageous musical 'Springtime for Hitler', as well as navigating the temptations of Swedish bombshell Ulla (Phoebe Edwards).
In store is a bombastic and confidently incompetent show, rife with idiocy and drenched with satirical intention, from Director Joseph Carbone.
Please note the performance on Friday 20 April is for residential college students and donors only.
Tickets: $20 Concession / $25 Adult