Asia Power Index
Seminar/Forum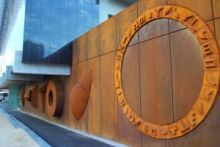 Room 321, Level 3
Sidney Myer Asia Centre
Parkville campus
Further Details
Global wealth and power are shifting eastwards. Three of the world's four largest economies are in Asia, and the fourth, the United States, is a Pacific power. By 2025, two-thirds of the world's population will live in Asia, compared with just over a tenth in the West. Asia's economic transformation is reshaping the global distribution of power, changing the way the region — and indeed the world — work politically and strategically. Just as significantly, tensions between Asian powers will define war and peace in the 21st century.
New tools are needed to track and understand the geopolitical changes at play. The Lowy Institute Asia Power Index is an analytical tool that aims to sharpen the debate on power dynamics in Asia. The Index measures power across 25 countries and territories in the Asia-Pacific region, reaching as far west as Pakistan, as far north as Russia, and as far into the Pacific as Australia, New Zealand and the United States. The Index breaks down power into eight distinct measures, over 114 indicators, allowing variations in power projection to be measured within and between countries. Annual editions of the Index will track how the distribution of power in Asia shifts over time.
Join Hervé Lemahieu and Bonnie Bley, the principal researchers behind the project, for a discussion on the methodology and wide-ranging findings of the Index. A light lunch will be provided from 12pm. The seminar will begin at 12.30pm.