Stretching the Truth
Booked Out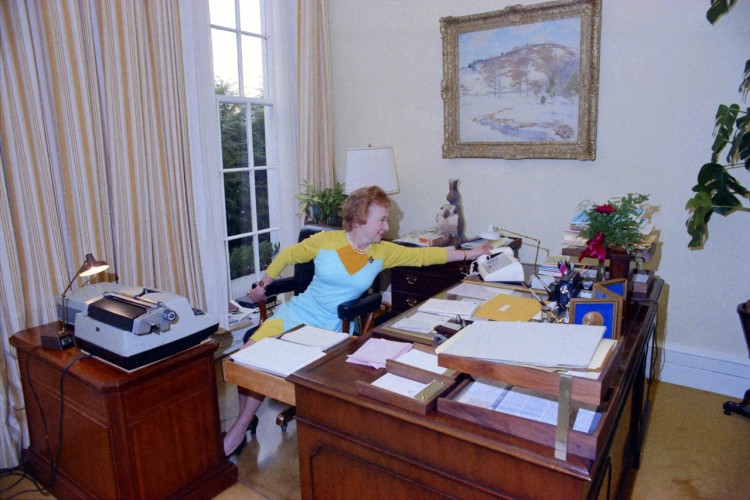 Level 1 Multifunction Room
Ian Potter Museum of Art
Parkville campus
801 Swanston Street
Join UK based artist Susan Schuppli for a performance | lecture at the Ian Potter Museum of Art where she plays the part of Richard Nixon's secretary at the time of the Watergate scandal.
"Next to a man's wife, his secretary is the most important person in his career. She has to understand every detail of his job; to have unquestioning loyalty and absolute discretion. On every count Rose measures up. I'm a lucky man". — Richard Nixon, 1957
At some point during the evening of June 20 1972 a conversation between two men was secretly taped using cheap lavalier microphones and a tape recorder set to run at an irregular speed. The result was a tape of degraded sound quality produced under deficient recording conditions. Of the more than 3,700 hours of audio confiscated from the Oval Office, Tape 342 remains by far the most infamous. Not because of the shocking information it contains, but because of its absence: 18-1/2 minutes of missing audio. The tape-gap occurs during a rambling conversation between Nixon and White House Chief of Staff H.R. Haldeman just three days after the break-in at Democratic National Committee Headquarters in the Watergate Hotel. When news of the tape's potential tampering was made public, Nixon's personal secretary, Rose Mary Woods took responsibility for this breach in the historical record. Under cross-examination in a federal courtroom, she told a rather confused story of how she might have made "a terrible mistake" and been partially responsible for the glitch. Woods claimed that while she had been transcribing and typing the conversations of 20 June 1972, the telephone suddenly rang causing her to press the wrong pedal on her foot-controlled UHER tape recorder, which she was using for purposes of playback, resulting in the erasure. Forensic acoustic analysis would ultimately overturn her testimony.
Eavesdropping is a unique collaboration between Ian Potter Museum of Art, Liquid Architecture, and the Melbourne Law School. For more programs in Movement 1: Overhear investigating wiretapping, the sonic episteme, sonic agency, excessive listening, forensic listening please go to the Eavesdropping website.
Image credit: Archival photograph. Rose Mary Woods, Secretary to former USA President, Richard Nixon 1972. Courtesy of Susan Schuppli