How international is Chinese art?
Free Public Lecture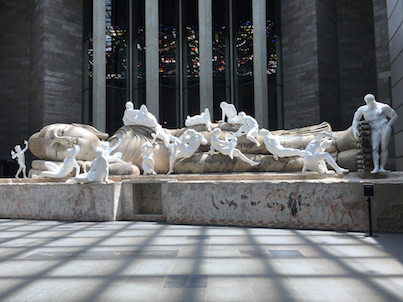 Yasuko Hiraoka Myer Room
Sidney Myer Asia Centre
Parkville campus
Further Details
Asian Art Dialogue
How international is Chinese art?
To what extent does China's long cultural history, the unique political systems in operation in mainland China, Hong Kong and Taiwan, and the economic transformation of the region that has taken place in recent decades make the greater China region exceptional in itself and in relation to others? How is art made by artists residing in greater China understood when it is exhibited outside its locus of production?
Join us for a public conversation on modern and contemporary Chinese art and its reception within greater China and beyond.
Introduced by Claire Roberts, Australia Research Council (ARC) Future Fellow, Associate Professor, Art History, The University of Melbourne. Respondent: Charles Green, Professor of Contemporary Art, The University of Melbourne. Guest speakers Su-hsing Lin, Carol Yinghua Lu and Tina Pang.
This event is supported by the ARC Future Fellowship research project led by Dr Claire Roberts Reconfiguring the World: China. Art. Agency. 1900s to Now funded by the Australian Research Council (FT140100743) and the Faculty of Arts, School of Culture and Communication at the University of Melbourne.
Photo by Claire Roberts: Xu Zhen, Eternity-Buddha in Nirvana, the Dying Gaul, Farnese Hercules, Night, Day, Sartyr and Baccante, Funerary Genius, Achilles, Persian Soldier Flighting, Dancing Faun, Crouching Aphrodite, Narcissus Lying, Othryades the Spartan Dying, the Fall of Icarus, A River, Milo of Croton, 2016-17, mineral-based composite material, mineral pigments, metal. Commissioned by the National Gallery of Victoria, Melbourne, Loti & Victor Smorgon Fund, 2017.