Inter-Korean Peace-Building and Denuclearisation of North Korea
Seminar/Forum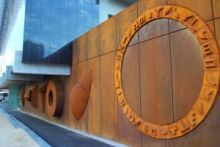 Yasuko Hiraoka Myer Room, Level 1
Sidney Myer Asia Centre
Parkville campus
Further Details
In this talk, His Excellency Mr Lee Baeksoon, Ambassador of the Republic of Korea to Australia, will discuss the recent development in the Korean Peninsula.
After the highly successful Pyongchang Winter Olympic Games in South Korea and with great efforts made by South Korean President Moon Jae-in, inter-Korean and North Korea-US relations have now turned a new phase of peace-building and denuclearisation in Korea. Two Korean leaders, Moon Jae In and Kim Jong Un, met twice at Panmunjom, the demilitarised zone (DMZ). High-level meetings continue between the two Koreas to discuss connecting railways, family reunion and economic cooperation. Kim and the US President Donald Trump also met in Singapore to negotiate the details of the denuclearisation process.
Jay Song, senior lecturer in Korean studies, asks South Korean Ambassador Lee Baeksoon about the prospect of the continuation of peace talks between the two Koreas and the challenges ahead for the denuclearisation of North Korea.
This will be the second seminar in the Asia Institute's Korean Studies Distinguished Speakers Series.