Heathers the Musical
Performance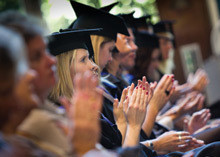 Union Theatre, Ground Floor
Union House
Parkville campus
Further Details
T: (03) 8344 6975
Presented by University College Theatre Company
Inspired and based on the cult 1989 film, Heathers: The Musical combines a rock-musical with the shoulder-padded, scrunchies-wearing mean girls, Heather (Erica Roche), Heather (Emily Bolton) and Heather (Mollie Farrell). Misfit Veronica Sawyer (Georgia Elder-Hackford) rejects their regime for the dark, beautiful new boy J.D. (Andy Song), whose goal is to bring the Heathers down from their pedestal and put them in their place – six feet under.
Written by the award-winning Kevin Murphy and Laurence O'Keefe, Heathers the Musical is the latest off Broadway hit to take the theatre world by a storm. This hilarious, dark, homicidal musical tackles the world of teenage angst, suicide and the intricate hierarchies of the high school world.
University College Theatre Company would love for you to come and see our show. Three shows only! The hilarious and catchy music and raunchy scenes are sure to leave you feeling like you are seventeen again.
Tickets: Students/Concession $18 / Full Price $25