Film Workshop: Visconti's 'The Leopard' and Filmmaking on its Own Terms
Training/Workshop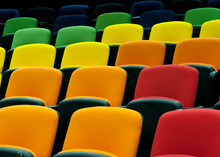 Co.As.It, 189 Faraday St
Carlton
Further Details
T: (03) 9035 5092
As part of the celebrations for the 60th anniversary of the publication of Il Gattopardo (The Leopard) by Giuseppe Tomasi di Lampedusa, this workshop will focus on Luchino Visconti's 1963 film, starring Burt Lancaster, and how it stands as a visual and aural companion to the world imagined on the page.
Screening key scenes, Dr Mark Nicholls will lead participants in a detailed analysis of the film and consider what Visconti's work tells us about Sicily and Italy at, perhaps, their most significant moment of social and political change. Inevitably, Mark argues, The Leopard stimulates a much more profound consideration of the way we all live and provides a guide to how we can face the dilemmas of change and decay in our own significant moment of public and personal history.
This discussion-based, interactive workshop is unmissable for fans of cinema or anyone drawn to Italian history and culture. Expertise in Cinema Studies is not required – just a love of film. While key scenes will be screened, the session will be most valuable for those who have already seen the film in full or read Tomasi di Lampedusa's original text.
This session will be held at Co.As.It, a not-for-profit organisation that champions Italian culture in Melbourne, and supports the welfare of Italians and Australians of Italian decent.
Dr Mark Nicholls is Senior Lecturer in Cinema Studies at the University of Melbourne where he has taught film since 1993. Mark has worked as a film journalist for ABC Radio and The Age and has a list of over 20 stage credits as a playwright, performer, producer and director.
Being Human Festival 2018 This event is being held as part of the 2018 Being Human Festival. Founded in the UK as the only national festival of the humanities, Being Human is now a global celebration dedicated to demonstrating the breadth, diversity and vitality of the humanities.