Managing the Global Burden of Chronic Musculoskeletal Pain
Seminar/Forum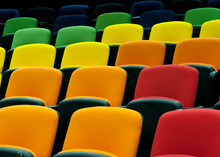 Ian Potter Auditorium
Kenneth Myer Building
Parkville campus
Royal Parade
Further Details
T: (03) 8344 8455
2019 Miegunyah Distinguished Visiting Fellow Public Lecture
Musculoskeletal pain conditions such as arthritis and back pain are the most common causes of pain and disability in Australia and are major global public health concerns. They affect the bones, joints, muscles and connective tissues, stop people doing their everyday activities, lead to time off work, healthcare consultation and frequent medication use. The consequences are substantial in terms of the daily effort to self-manage, physical and psychological distress, and the struggle to meet family, social and work obligations. Together, they represent the largest single cause of years lived with disability, a disability burden that will rise further as the population increases and ages.
Healthcare for people with musculoskeletal conditions is mostly aimed at controlling pain and improving function and quality of life. At present, efforts to both prevent and manage musculoskeletal pain conditions are suboptimal with over-use of imaging, medications that have serious side effects and costly surgical procedures such as knee arthroscopy, despite evidence showing that they are not effective. On the other hand, safe and effective treatments such as exercise, weight loss and other pain self-management strategies are globally either inaccessible or under-used.
This lecture will provide an overview of the burden of musculoskeletal pain conditions, explore reasons for why healthcare is currently suboptimal and propose different ways that high-value healthcare can be provided in order to improve outcomes for people with these conditions as well as making the best use of limited healthcare resources. The lecture will explore the potential of combining healthcare strategies with strategies from other sectors including public health and industry. Greater focus on prevention strategies and approaches that maximise self-management are likely to be particularly important for the future.