Albert Herring (Melbourne)
Performance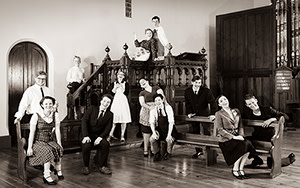 Hawthorn Arts Centre
Hawthorn
360 Burwood Road
Further Details
Through music, visual spectacle and incredible stories, opera transports us to special places. Rituals offer frameworks to make sense of our world. The May Day celebration is an English tradition which forms the backdrop to Benjamin Britten's comic opera Albert Herring (1947).
Set in the imaginary english town of Loxford, this comic tale explores Albert's battle against social oppression.
The project brings together the dynamic production team of Jane Davidson and Matthew Adey. Internationally renowned Britten scholar and conductor, Paul Kildea, brings a wealth of experience as musical director. The exciting cast of singers is drawn from the new Master of Music (Opera Performance) at the Melbourne Conservatorium of Music.
Directed by Jane Davidson. Production Design by Matthew Adey. Conducted by Paul Kildea*. Featuring Tom Griffiths as Head Repetiteur and the Master of Music (Opera Performance) students.
*Appearing at Hawthorn Arts Centre performances only.
Please note that cash sales at the door will not be available for this performance – however, transactions via EFTPOS will be possible.