Book Launch: Living with Oil and Coal
Launch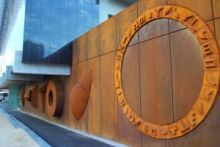 Seminar Room
Australia India Institute
Parkville campus
149 Barry Street
Further Details
Join us at the Australia India Institute to launch Dolly Kikon's book: Living with Oil and Coal: Resource Politics and Militarization in Northeast India. Dolly will provide a short introduction to the book before turning to the floor for a question and answer session.
The 19th-century discovery of oil in the eastern Himalayan foothills, together with the establishment of tea plantations and other extractive industries, continues to have a profound impact on life in the region. In the Indian states of Assam and Nagaland, everyday militarisation, violence and the scramble for natural resources regulate the lives of Naga, Ahom and Adivasi people, as well as migrants from elsewhere in the region, as they struggle to find peace and work.
Anthropologist Dolly Kikon uses in-depth ethnographic accounts to address the complexity of Northeast India, a region between Southeast Asia and China where boundaries and borders are made, disputed and maintained. Bringing a fresh and exciting direction to borderland studies, she explores the social bonds established through practices of resource extraction and the tensions these relations generate, focusing on peoples' love for the landscape and for the state, as well as for family, friends and neighbours. Living with Oil and Coal illuminates questions of citizenship, social justice and environmental politics that are shared by communities worldwide.
Food and drink will be provided so registration is essential.