Medical Countermeasures – A Program for Uncertain Times
Seminar/Forum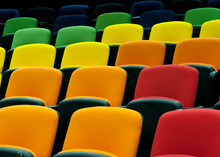 Auditorium
Peter Doherty Institute
Building 248
Grattan Street
Medical countermeasures is one of the Defense Materials Technology Centre's (DTMC's) latest programs, building on research undertaken by government, industry and research agencies. The program is focused on advancing the development of technologies relevant to Australia's national preparedness strategy, with applications to both civil and military domains.
Medical countermeasures include vaccines, therapeutics and diagnostics for the protection of military and civilian personnel against chemical, biological and radiological threats, emerging infectious diseases and pandemics.
Air Vice Marshall Tracy Smart will examine the role of the medical countermeasure program and projects currently underway. Commander Smart will also describe potential opportunities for research partners and industry to service the needs of the Australian Defense Forces both at home and overseas.