Up from the Vaults: Echoes of Spain in Belle-Époque Paris
Seminar/Forum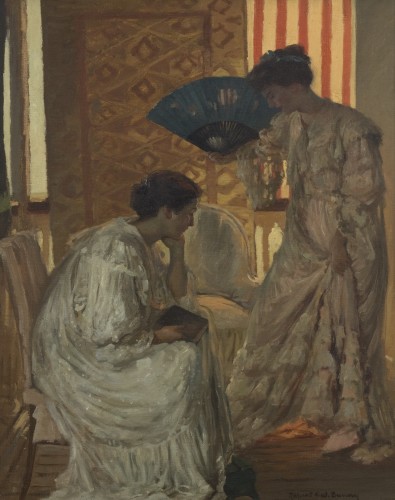 Old Quad Library
Old Quadrangle
Parkville campus
Further Details
T: (03) 8344 5148
In the summer of 1908, Australian painter Rupert Bunny (then based in Paris) began a series of works entitled Days and Nights in August. Informed by his years in Europe, the series depicts the languorous leisure pursuits of women holidaying at a French seaside resort. These paintings reflect Bunny's intimate knowledge of French society, fashion and entertainment of the time – drawing inspiration from his cosmopolitan existence living among fellow artists and performers in Paris during the Belle Époque.
In this talk we will explore some of the contexts that informed Bunny's summer paintings, especially the fashions for dance and Spanish style that may have influenced the conception of a key work from the series, The New Step, from the University of Melbourne Art Collection. The settings of summer entertainment portrayed by Bunny will be compared with artworks by his contemporaries Charles Conder, Joaquín Sorolla and John Singer Sargent, while Hispanic music performed by guitarist Ken Murray will provide a sonorous evocation of the era.
Our 2019 program, Inside Out, has been generously supported by Peter Jopling AM QC, Andy Zhang and Calvin Huang.
Image: Rupert Bunny, 'The New Step' (c. 1908-11), oil on canvas, The University of Melbourne Art Collection. Gift of Dr Samuel Arthur Ewing 1938.