The Man From Earth
Performance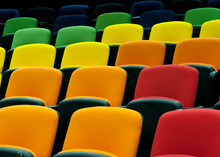 Union Theatre, ground level
Union House
Parkville campus
Further Details
T: (03) 8344 6975
As a collective student association, MUCTG (Melbourne University Chinese Theatre Group) has been running for 26 years, showcasing the dedication and hard work of our members in the form of quality and professional stage productions each semester.
We gladly present to you with great excitement The Man From Earth – a sci-fi themed stage play as MUCTG's major production for 2019 Semester 2.
All performance are in Chinese with English captions.
Tickets: General Admission $22