Comparing National Policy Designs for Unemployment Assistance
Launch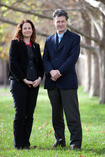 University House
Professors Walk
Further Details
T: (03) 8344 6209
Please join Professor Dan Finn to launch Professor Mark Considine and Dr Siobhan O'Sullivan's book Contracting-out Welfare Services: Comparing National Policy Designs for Unemployment Assistance.
Dan Finn will say a few words about employment services research around the world and recent developments in the UK.
Contracting-out Welfare Services focuses on the design and overhaul of welfare-to-work systems around the world in the light of the radical re-design of the welfare system; internationally based authors utilise a national/program case study, considering employment services policy and activation practices.
• International contributors bring a global comparative perspective to the subject
• Contributors are all experts in their field, who also draw on a much longer intellectual legacy
• Uses employment services as a case study to advance understanding in relation to a host of broader principles and concepts
• Each paper included within the text uses a national/program case study, and each considers employment services policy in general, and activation practices in particular
Professor Mark Considine is the Dean of the Faculty of Arts at The University of Melbourne. His research areas include governance studies, comparative social policy, employment services, public sector reform, local development, and organisational sociology.
Dr. Siobhan O'Sullivan is a Research Fellow in the School of Social and Political Sciences at the University of Melbourne, Australia. Siobhan specialises in the welfare state, especially the delivery of employment services.
Dan Finn is Professor of Social Inclusion and was previously co-Director of the independent Unemployment Unit. He studied for an undergraduate degree in Sociology at the University of Warwick before completing his PhD at the Centre for Contemporary Cultural Studies, University of Birmingham, in 1978.
He is best known for his role in the development, analysis and assessment of the British Comparing National Policy Designs for Unemployment Assistance Governments' welfare to work programmes and he has acted as a consultant and special adviser for a number of UK and international agencies.
Admission is free. Bookings are required. Please join us for drinks and canapés.