The Enemy Within: The ANZAC Centenary Lectures
Free Public Lecture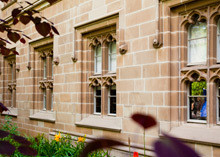 Museum Theatre
Melbourne Museum
11 Nicholson St, Carlton
Further Details
T: (03) 8344 7637
The First World War was conducted in political climate of patriotic fervour and rigorous policing of opposition. Debates over conscription divided the community. The War Precautions Act created arbitrary powers that threatened the civil liberties of minority and opposition groups.
History specialist Professor Emeritus Stuart Macintyre, together with Legal experts Laureate Professor Cheryl Saunders and Professor Gerry Simpson will join Maxine McKew to reflect on the powers enacted during wartime, and discuss current concerns for human rights in our own period.
This discussion will draw on WW1:Love & Sorrow now showing at Melbourne Museum.

This event is part of the University of Melbourne ANZAC Centenary Lectures, presented in partnership with Museum Victoria.