Gauwerky/Wong/Neville: Game, Set "Match"
Performance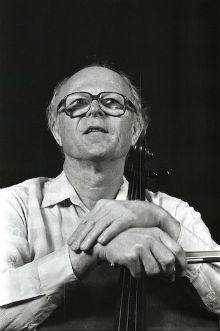 Further Details
T: (03) 9035 9309
Program:
John Cage: "Variations I" (1958, version for Violoncello and Percussion by Gauwerky 2015) Isang Yun: "Glissées" for Violoncello solo (1970) Karlheinz Stockhausen/Friedrich Gauwerky: Three pieces from "Amour" (1976/2013) Maurico Kagel: "Match for Three Players" (1964)
Virtuoso German cellist and new music ground-breaker – Friedrich Gauwerky -returns to the MCM with a fascinating program of works by some of the most important composers of our time. He will be joined by MCM staff Alvin Wong and Peter Neville for a rare performance of the Argentinian-born composer Mauricio Kagel's tour de force "Match " in which the percussionist plays umpire to two duelling cellists.
Friedrich Gauwerky was born in Hamburg and gave his debut there at the age of twelve. At seventeen he won the Preis des Philharmonischen Staatsorchesters Hamburg. He joined the class of Siegfried Palm, later becoming his assistant, taught at the Musikhochschule Köln from 1978 onward and he coached regularly at the Darmstadt Courses for New Music. He was the principal cellist in the Ensemble Modern in Frankfurt and a member of the Australian ensemble Elision. He has undertaken worldwide concert activity as a soloist and chamber musician and performed for radio and television productions in Europe, the United States, Asia and Australia. He has recorded numerous LPs and CDs and has taught at various institutions including the Musikhochschule Köln, the Royal Academy of Music London.