Love Remixed
Performance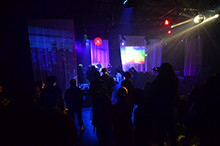 Grant Street Theatre
Grant Street, South Melbourne
Further Details
T: (03) 9035 9309
The Interactive Composition program collides with VCA Animation and MCM Early Music Studio to respond to the NGV exhibition, LOVE: Art of Emotion 1400-1800, produced in collaboration with the ARC Centre of Excellence for the History of Emotion at the University of Melbourne.
This is LOVE Remixed. Staff and students create an immersive experience of music, sound and vision - remixing LOVE: Art of Emotion. Presenting a truly unique twist on LOVE with live electronic preformances, DJs and interactive visuals.
A wonderful evening where contrasting and different disciplines at the VCA and MCM come together to collaborate and respond to the NGV's permanent collection. Exploring the theme of love in art, and the changing manifestations of this complex emotion–all with a reimagined modern remixed flavour!