Asia TOPICS: Lunchtime Artist Talks
Free Public Lecture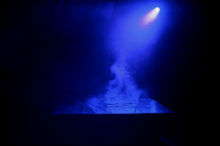 Space 28
Performing Arts Building
28 Dodds Street, Southbank, VIC, 3006
Further Details
T: (03) 9035 9309
Dancer and choreographer Takao Kawaguchi (Japan) In conversation with dramaturg Lim How Ngean
In his Asia TOPA performance About Kazuo Ohno (Dancehouse, 25-6 February), multimedia performance artist Takao Kawaguchi revisits the iconic performances of butoh legend Ohno, raising questions about the dance form's defining commitment to impulse and immediacy. In conversation with Malaysian dance dramaturg Lim How Ngean, Kawaguchi will introduce his practice, and reassess the legacy and current state of butoh. Is butoh now – or can it ever be – a thing of the past? What does the future hold for dancers, and dance forms, who strive to perform in the moment?
Admission: Free, bookings essential
What makes contemporary Asian and Asian-Australian performing artists tick? What forms, materials and ideas are they working with, and how? What kinds of responses to their work are they looking for, and how should we make sense of it for ourselves?