Asia TOPICS: Lunchtime Artist Talks
Free Public Lecture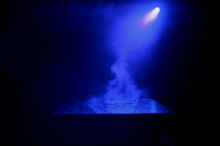 Space 28
Performing Arts Building
28 Dodds Street, Southbank, VIC, 3006
Further Details
T: (03) 9035 9309
Rapper and MC Aristophanes (Taiwan) In conversation with Rachel Marsden, University of Melbourne.
Aristophanes is a Taipei-based artist, whose striking verbal wordplay, poetry and cutting-edge delivery has seen her rise to the forefront of new sounds emerging out of Taiwan. Her arresting, energetic contribution to the track 'SCREAM' on Canadian singer Grimes's latest album, Art Angels, has brought international attention to her singular style, which toys in playful and challenging ways with female sexuality whilst stretching the expressive boundaries of Mandarin rap. In conversation with contemporary Chinese arts and culture curator and scholar Rachel Marsden, Aristophanes will talk about her experiences of the music industry in Taiwan and China, transcultural collaborations with international musicians and producers, and how her music translates to new audiences in Australia.
Rachel invites the public to submit questions prior to the event via Twitter using @rachmarsden
What makes contemporary Asian and Asian-Australian performing artists tick? What forms, materials and ideas are they working with, and how? What kinds of responses to their work are they looking for, and how should we make sense of it for ourselves?
From 21-24 February, join a diverse range of featured artists from the first Asia-Pacific Triennial of Performing Arts to explore the answers to these questions, and to pose your own. Each lunchtime, artists from different places and practices will be in conversation with local specialists in a lively investigation into the state of contemporary Asian and Asian-Australian arts:
Admission: Free, bookings essential.