Asia TOPICS: Lunchtime Artist Talks
Free Public Lecture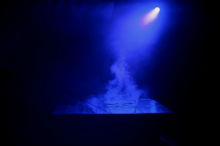 Space 28
Performing Arts Building
28 Dodds Street, Southbank, VIC, 3006
Further Details
T: (03) 9035 9309
Dancer-choreographers and curators of the XO State performance series Eisa Jocson (Philippines) and Gideon Obarzanek (Australia) In conversation with Paul Rae, University of Melbourne.
Major international performer-choreographers in their own right, during Asia TOPA, Eisa Jocson and Gideon Obarzanek are joining forces both to present their own work, and to curate XO State, a series of dance, music and theatre performances that provide a dark and compelling underground to the main festival program. In conversation with theatre scholar Paul Rae, Eisa and Gideon will explore what motivates them in their own work, as well as the thinking underpinning the XO State project, and their prognosis for the future of Asian and Australian contemporary performance.
What makes contemporary Asian and Asian-Australian performing artists tick? What forms, materials and ideas are they working with, and how? What kinds of responses to their work are they looking for, and how should we make sense of it for ourselves?
From 21-24 February, join a diverse range of featured artists from the first Asia-Pacific Triennial of Performing Arts to explore the answers to these questions, and to pose your own. Each lunchtime, artists from different places and practices will be in conversation with local specialists in a lively investigation into the state of contemporary Asian and Asian-Australian arts.
Admission: Free, bookings essential