China in Africa: What is OBOR and why is the Indian Ocean in focus?
Seminar/Forum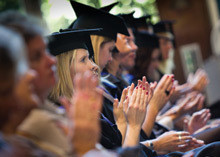 Room 556
Arts West
Professor's Walk, Parkville
Further Details
T: (03) 8344 0141
Three years since the launch of China's flagship outbound investment strategy, One Belt One Road (OBOR), many are left uncertain - what is OBOR and what exactly is China trying to achieve?
Based on study of trade-related potential for win-win development between China and Africa countries, Dr. Lauren Johnston explains economic push factors underlying China's outbound investment agenda, and the attractiveness of selective 'Belt' countries in Africa. Arguing that the timeliness of OBOR investments for particular African economies could help underlie sustained economic development, she adds a call for Australia, the only OECD member of the Indian Ocean Rim Association (IORA), to grasp related new challenges and opportunity.
Johnston, L.A., S.L. Morgan and Y. Wang. 2015. The Gravity of China's African Export Promise, World Economy, 38(6), 913-34. doi: 10.1111/twec.12229.
Johnston, L.A. 2016. Africa, and China's One Belt, One Road Initiative: Why now and what next? Engaging with the emerging economies. Bridges Africa, Vol. 5(7) September. International Centre for Sustainable Trade and Development, Geneva.