Complex Regulation of TNF Expression Through its 3' Untranslated Region
Seminar/Forum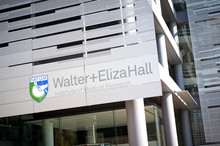 Davis Auditorium
Walter and Eliza Hall Institute of Medical Research
Parkville
1g Royal Parade, Parkville
Further Details
T: (03) 9345 2555
High levels of the pro-inflammatory cytokine tumour necrosis factor (TNF) have been associated with many diseases including rheumatoid arthritis (RA), ankylosing spondylitis (AS), inflammatory bowel disease (IBD) and psoriasis. Dr Philippe Bouillet and his laboratory have recently studied a spontaneous dominant mouse mutation that causes severe polyarthritis and heart valve disease in BPSM1 (Bone Phenotype Spontaneous mutant 1) mice. In these animals, very high TNF overexpression is caused by the insertion of a retrotransposon in the 3' untranslated region (UTR) of the TNF gene.
The CCCH zinc finger-containing proteins Zfp36 and Roquin regulate TNF expression via the AU-rich elements (ARE) and the constitutive decay element (CDE) located in the 3'UTR, respectively. The have investigated the regulatory potential of 50 other CCCH-containing ZPF on the 3'UTR of TNF and identified new regulators of TNF mRNA stability, as well as a new regulatory element (NRE) within the 3'UTR. The regulatory elements contained within TNF 3'UTR appear to act synergistically and in a cell type-specific fashion. They have engineered mutant mice lacking individual TNF regulatory elements (ARE, CDE or NRE), or combinations of these elements. Remarkably, all these mutants develop different diseases. Their results indicate that the improper regulation of TNF expression at a post-transcriptional level, through a complex mechanism involving several regulatory elements and multiple proteins, may be a cause for several inflammatory diseases.
Dr Philippe Bouillet is a laboratory head in the Molecular Genetics of Cancer division.
No registration is required.