Poetry and Song at the Brothers Public House
Performance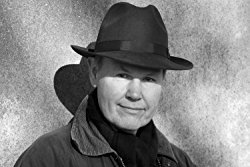 The Brothers Public House
42 Johnston Street
Fitzroy Vic 3056
Further Details
T: (03) 9035 5280
Join Irish poet and Vincent Buckley Poetry Prize recipient James Harpur for a special evening of poetry and music.
Harpur will be joined by poet and musician Myron Lysenko playing ukelele with friends. Musician and songwriter Peter Russo will be performing songs of love and loss on guitar.
James Harpur has had five poetry collections published by Anvil Press, all of which reflect his interest in myth, history and the sacred. He is the poetry editor of the Temenos Academy Review.
Myron Lysenko worked as a professional poet (1989 - 2010) with Nexus Arts Booking Agency and is the author of five books of poetry and haiku.
Peter Russo co-established The Whole Gamut Acoustic Music Club. Peter's forthcoming CD Love, Death and Beauty will be available later in the year.
James Harpur is in Australia for a month residency as visitor at the Australian Centre.
$5 donation is welcome. No bookings required.