Mechanisms Underlying Differentiation and Tissue Adaptation of Effector Regulatory T Cells
Seminar/Forum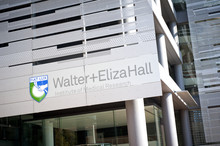 Davis Auditorium
Walter and Eliza Hall Institute
Parkville
1g Royal Parade
Further Details
T: (03) 9345 2555
Regulatory T (Treg) cells play a crucial role in maintaining immune homeostasis by suppressing auto-reactive and inflammatory immune cells. Treg cells also perform non-canonical functions, which include tissue repair and maintenance of whole body metabolism. To be functionally versatile, Treg cells undergo a differentiation process that results in the generation of 'effector' Treg cells, which predominantly localize in non-lymphoid tissues. Given that each tissue microenvironment is unique, effector Treg cells employ a diverse range of mechanisms to adapt to distinct tissue niches.
Dr Ajithkumar Vasanthakumar employs novel mouse models and cutting edge genomic tools to identify mechanisms that underlie differentiation of effector Treg cells and their adaptation in adipose tissue. In this talk, he will discuss how T cell receptor (TCR), TNF receptor super family and IL-33 signaling pathways regulate this process and how these pathways can be harnessed to restrain adipose tissue inflammation for the treatment of type 2 diabetes.
No registration is required.