Artificial Intelligence for Cancer Diagnosis & Therapy: Rise of the Machine of False Dawn?
Free Public Lecture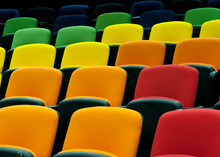 Lecture Theatre B, Level 7
Victorian Comprehensive Cancer Centre
305 Grattan St, Melbourne VIC 3000
Further Details
T: (03) 8559 7225
In a world of ever-advancing technology, where robots and self-driving cars are no longer the stuff of science fiction, the impact of technology is all around us. While there are definite benefits, how much of technology is a threat? What does the future hold? Will clinicians be replaced by machines in 2050?
Dr Dishan Herath, Joint Chief Medical Information Officer, Peter Mac; Medical oncologist, Western Health and Peter Mac; Nuclear Physician, Royal Melbourne Hospital, will outline the basics of artificial intelligence (AI) from a clinician's perspective, the current state of AI for clinical cancer care, the hype versus outcomes and the challenges and opportunities. Join us for a thought-provoking presentation as we gaze into the future of medical technology.
Light lunch served from 12.30pm Presentation: 1pm- 2pm
Can't join us in person? Join us online via our Webinar - details on registration page.