The story of Venetoclax - a new drug for cancer
Seminar/Forum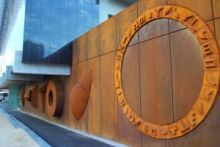 Lecture Theatre B, Level 7
Victorian Comprehensive Cancer Centre
305 Grattan St, Melbourne VIC 3000
Further Details
T: (03) 8559 7225
From a basic science discovery in Melbourne in 1988 to a whole new class of anti-cancer drugs in 2017. Venetoclax evolved from a landmark discovery in 1988, which found that a protein called BCL-2 promoted cancer cell survival. Since then scientists around the world have been trying to find a way to target BCL-2 as a treatment for certain cancers.
Join Professor Andrew Roberts, Head of Clinical Translation at Walter & Eliza Hall Institute of Medical Research and Chair, VCCC Cancer Research Advisory Committee, to learn about the bench-to-bedside journey of Venetoclax and reflect on how the VCCC can play a key role in the development of more successful treatments in the future.
Light lunch served from 12.30pm Presentation: 1pm- 2pm
Can't join us in person? Join us online via our Webinar - details on registration page.