The New Global Disorder and the Rise of Despotism
Booked Out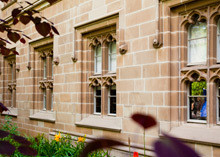 Auditorium
Peter Doherty Institute
Parkville
Grattan Street
There's a widespread feeling that we're living in times of a new global disorder that works in favour of the wealthy, media manipulators, populists, strategists of war and other anti-democratic forces.
Professor John Keane, University of Sydney, analyses one of the most salient of these global trends: the birth of political regimes that are a serious alternative to the ideals and practices of power-sharing monitory democracy as we have known it during the past generation.
Drawing on evidence and field work from China, Hungary, the UAE, Poland, Iran, Russia and the Central Asian republics, he shows how these regimes mobilise democratic rhetoric and make use of election victories. They forge public support and workable forms of government by means of patron-client relations, economic growth, sophisticated media controls, strangled judiciaries, dragnet surveillance and selective armed crackdowns on their opponents.
The lecture pays special attention to the inadequacy of such descriptive terms as dictatorship, autocracy and authoritarianism. It makes a case for retrieving and refurbishing the old concept of despotism, to make better sense of why these 21st-century regimes seem both crisis-ridden yet remarkably resilient, why they tend to cooperate both regionally and globally, feeding upon each other's resources, and why they breed global insecurities and threaten the norms and institutions of power-sharing democracy.
Professor Glyn Davis AC, Vice-Chancellor of the University of Melbourne will introduce our guest speaker.