Understanding JAK activation and inhibition using structural biology
Seminar/Forum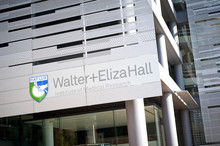 Davis Auditorium
Walter and Eliza Hall Institute
Parkville
1g Royal Parade
Further Details
T: (03) 9345 2555
The Janus Kinases (JAKs) are tyrosine kinase proteins which play an integral part in cytokine signalling pathways. Using structural biology, Nick has focused on the molecular mechanisms of how JAKs are appropriately regulated within the cell to prevent disease caused by aberrant signalling.
Several layers of regulation ensure that JAKs are only activated at appropriate times. One such layer is the downregulation of JAK activity by the Suppressor of Cytokine Signalling (SOCS) proteins. Nick will present the structure of SOCS1 in complex with JAK1, providing the first molecular description of how SOCS1 inhibits JAK signalling.
Another layer of regulation is the switching of JAKs between active and inactive states. A full understanding of this mechanism of JAK regulation has proved elusive in the field, due to an inability to study the whole JAK protein. Nick has produced and characterised recombinant full length JAK and will present new structural and biochemical insights into the regulation of JAK as a result of this.
No registration is required.