Curie Meitner Lamarr Indivisible
Performance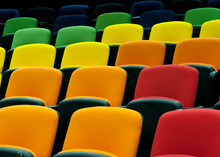 Forum Theatre
Arts West
Parkville
Further Details
T: (03) 9035 6642
This play celebrates three outstanding pioneers representing the achievements of women in science and technology: Marie Curie (1867–1934), a double Nobel Prize winner who discovered radioactivity; Lise Meitner (1878–1968), an Austrian-Swedish nuclear physicist; and Hedy Lamarr (1914–2000), a Viennese Hollywood actress who invented frequency hopping.
Illustrated with music and videos, the performance is an entertaining portrait of extraordinary women in history. Directed by Sandra Schüddekopf, with Anita Zieher impersonating the three women, the performance has been a great success in Austria and has already toured in Belgium, Germany, Iran, Poland, Switzerland, Romania and the USA.
This event is presented by the School of Languages and Linguistics with support from Goethe Institute, Australia, DAAD and the Austrian Embassy (Canberra).