Creative Classrooms: How to Stoke Imaginative Intelligence in Students
Free Public Lecture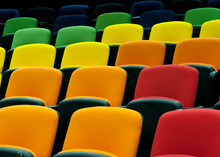 Q230
258 Queensberry Street
Parkville
258 Queensberry Street
Further Details
T: (03) 8344 0082
Severe ear infections rendered three-year-old Scott Barry Kaufman nearly deaf. As a result, he needed a few extra seconds to process things in real time, which landed him in a special education classroom.
Inspired by his personal experience, Scott Barry Kaufman encourages educators to take a holistic, whole person approach to evaluation that benefits all students. According to Kaufman, students who dream big – those who can imagine different, better, more satisfying lives – have a better chance of living them.
With cutting-edge research, Kaufman shows us how a renewed embrace of intellectual curiosity can prepare students for rewarding lives worth living.