Capturing value – how is science boosting development in Victoria?
Free Public Lecture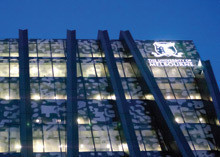 Level 7, Lecture Theatre B
Victorian Comprehensive Cancer Centre
Parkville
305 Grattan Street
Further Details
Monday Lunch Live with Dr Amanda Caples.
The Victorian Comprehensive Cancer Centre building is the largest single investment ever made by the Victorian Government in a research-clinical service facility.
Amanda will discuss the economic development perspective behind this huge boost to cancer facilities in Victoria and talk about her role and aspirations as Lead Scientist.
Dr Amanda Caples PhD was appointed to the Victorian Lead Scientist role in mid-2016. The Lead Scientist works across the Victorian Government to foster linkages and identify opportunities for economic outcomes by engaging with business, the research sector and the Australian government. Amanda brings to the role broad experience in technology commercialisation, public policy development and governance of public and private entities. Previously as Deputy Secretary Sector Development and Programs, Amanda was responsible for the development of Future Industries strategic sector growth plans and for support of the Victorian science, innovation and entrepreneurial ecosystem.