Genetics and our Future Health
Free Public Lecture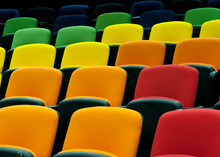 Ian Potter Auditorium
Kenneth Myer Building
Parkville
Royal Parade
The penultimate 'Daytime at the Florey' lecture for 2017
Associate Professor Justin Rubio has been working to understand the genetic basis of neurological diseases for 20 years, with six years of this time in the pharmaceutical industry, where he used genetics as a tool to develop medicines. Justin will present a lecture about genes and the dynamic impact that gene research is having on our understanding of disease and its potential impact on health.
The lecture will begin promptly at 11am and finish at approximately 12.15pm including question time.
Associate Professor Justin Rubio is the Head of the Neurogenetics Laboratory at the Florey Institute of Neuroscience and Mental Health.