Student Evaluations, Evidence-Based Learning and Evaluating Teaching Business.
Seminar/Forum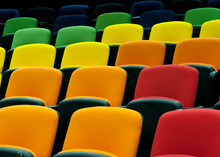 Level 1 Lecture Theatre
The Spot
Parkville
There currently exists a complex space where general education and business education research, along with advances in the science of learning, converge with student experience and expectations.
In sharing findings from research on Student Evaluations of Teaching (SETs), Dr Freishtat will examine how the increased scrutiny on SETs themselves – their over-reliance and misuse as a form of evaluating teaching – has provided the opportunity to re-think evaluating teaching with an important lens towards improved business pedagogy. Why would a heavily quantitative accounting course consistently score lower on average than a more qualitative business communications course? Why are business electives consistently rated higher than required gateway courses? Is this fair and representative of where effective teaching is occurring?
The over-reliance on SETs as a measure of evaluation serves too often to directly inhibit improved teaching practice and instead implicitly reinforces pedagogical models that favor a learned approach to 'doing school', versus a learned approach to learning. Ultimately, a systematic and consistent move towards the use of a teaching dossier across tenure and promotion processes can not only address the many concerns about SETs specifically, but also encourage improvement, innovation and applied differentiation in the teaching of business content areas.
Dr Richard Freishtat serves as Director of Berkeley's Center for Teaching and Learning, where he partners with faculty to inspire, enrich, and innovate Berkeley's collective practice and pursuit of teaching excellence.