Blood and the Recognition of Self
Seminar/Forum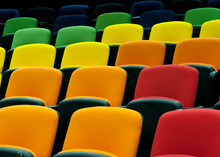 Yasuko Hiraoka Myer room
Sidney Myer Asia Centre
Parkville
Further Details
Peter Doherty shared the 1996 Nobel Prize in Medicine or Physiology for research that uncovered how T cells, part of our immune system, are able to recognise and kill virus infected cells. The discovery that our immune system can tell the difference between 'self' and an 'altered self' has not only provided an important basis for vaccines and medicines for infectious diseases, but also for inflammatory diseases and cancer.
Misty Jenkins, one of Doherty's former students, has pushed the research forward. She currently researches how these T cells kill cancer cells. This area of work is showing much promise for new cancer treatments.
Join an informal discussion, in which Peter and Misty will reflect on the legacy of their discoveries, and consider the fascinating future possibilities of using T cells to recognise 'self' and the 'altered self'.