Our Languages Matter – Kulinin?
Free Public Lecture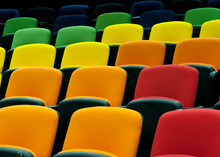 Public Lecture Theatre
Old Arts
Parkville
Further Details
T: (03) 8344 3311
The 2017 NAIDOC week theme 'Our Languages Matter' provides opportunity for reflection on the place of Aboriginal languages in Australian society and advocacy for a renewed focus within education.
Building on the work of Remote Education Systems, a five year research project within the Cooperative Research Centre for Remote Economic Participation (CRC-REP), 'Red Dirt Thinking' argues the need for culturally responsive pedagogies that are grounded in the context of remote communities.
In Anangu (Pitjantjatjara/Yankunytjatjara) communities, strong local languages and kin structures, Anangu cultural codes and values continue to frame the nature of Anangu engagement with schooling and non-local educators. Current remote education policies are focused on resourcing school attendance strategies, pedagogies for English language instruction and 'remotely located' (metropolitan) boarding school programs.
In this lecture, the need for effective teacher preparation and ongoing professional engagement opportunities towards strengthening the capacity for 'Red Dirt' culturally responsive pedagogies is argued. This includes metropolitan boarding programs where preparing young people to take up what continue to be 'Red Dirt' aspirations, located within the context of their home communities, is often unaccounted for. Finally, a Pitjantjatjara language frame for 'ethical listening' is proposed as an ethical/methodological tool in dual language and epistemological education contexts.