A Baroque Bishop in Colonial Australia: The Cultural Patronage of Bishop James Goold (1812–1886)
Symposium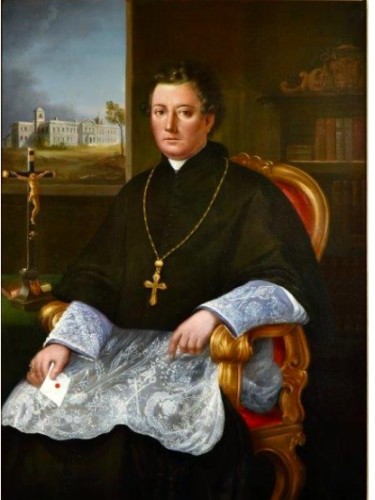 Theatre A
Elisabeth Murdoch
Parkville
Spencer Road
This international symposium examines the patronage of Melbourne's first Catholic Bishop, James Goold, and his contribution to the cultural life of colonial Melbourne, especially through his art collection, library and patronage of architecture.
Sessions will be devoted to the Bishop's important Baroque painting collection, his colonial library and his patronage of the British architect William Wilkinson Wardell, and its imprint on the built environment of Melbourne.
Dates: Thursday, 15 February to Friday, 16 February 2018 With Opening Keynote at 5.30pm on Wednesday, 14 February
For those wishing to attend individual keynote lectures, separate registration is required. See website for details.
Presented by the Australian Institute of Art History, within the School of Culture and Communication, and in partnership with the University of Divinity.
Image: Portrait of James Goold, c.1850–55, oil on canvas. By permission of the Institute of the Sisters of Mercy of Australia and Papua New Guinea Archives.