Archbishop Goold and the Diocese of Sydney, 1838–86
Free Public Lecture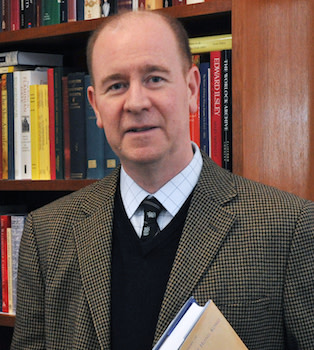 The Cardinal Knox Centre, University of Divinity
St Patrick's Cathedral
383 Albert Street, East Melbourne
For the first 10 years of his apostolate in Australia, James Alipius Goold was a priest of the diocese of Sydney, working primarily in the parish of Campbelltown, a small rural settlement to the south-west of Sydney. Even after his elevation to the episcopate in 1847, Goold continued to reside in the Sydney diocese for more than a year until he was finally consecrated in August 1848.
The 11 years that Goold spent in Sydney, representing nearly a quarter of his time in Australia, had a formative influence on his understanding of what it meant to be a missionary bishop in the colonial context. It was a period in his life when he learned much from the example of the English Benedictine bishop of Sydney, John Bede Polding (archbishop from 1842). Many of Goold's most senior clergy in Melbourne were initially, like him, former priests of the Sydney diocese, and between 1848 and 1877, his see remained suffragan to Sydney's metropolitan jurisdiction, so the connection between the churches of Sydney and Melbourne was formal as well as informal. Moreover, many of the political and social developments that affected the church in Sydney during this period had a similar impact on the diocese of Melbourne.
This lecture will examine the influence of Goold's early years in Australia and his continuing connections with Sydney upon his episcopate in Melbourne, with particular reference to the example of Archbishops Polding and Vaughan in the areas of architectural, artistic and bibliophilic patronage, and similarities in their approaches to education, clergy training, and attracting religious orders to their dioceses. This comparison will suggest that, despite the obvious differences, there were many similarities between the Catholic churches of Melbourne and Sydney, and their archbishops, in the mid-nineteenth century.
Peter Cunich is Associate Professor in History at the University of Hong Kong, where he has been teaching early modern European history for 25 years.
This keynote lecture is part of an international symposium A Baroque Bishop in Colonial Australia: The Cultural Patronage of Bishop James Goold (1812–1886).
Presented by the Australian Institute of Art History, within the School of Culture and Communication, and in partnership with the University of Divinity.