Building the Bundengan of Wonosobo Instrument-Building Workshop
Seminar/Forum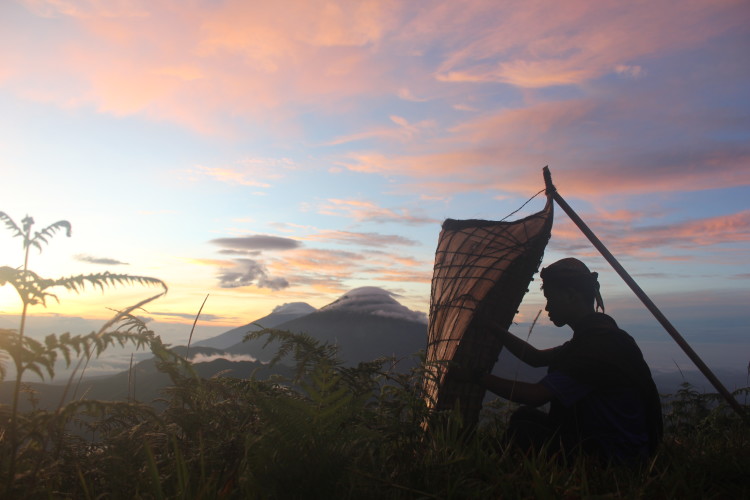 Grimwade Centre for Cultural Materials Conservation
Thomas Cherry
Parkville
Swanston Street
Further Details
Discover the Bundengan, a rare and unusual instrument from the mountains of Wonosobo, Central Java. Learn how to convert the traditional bamboo umbrella into an instrument varyingly described as 'a musical cape', the poor man's gamelan, and 'a bamboo prepared piano'. The unique organology of Bundengan, a large instrument carried on the body and played by sitting within its confines, promotes an intimate sensory experience shared by the instrument-builder, musician and audience.
This is a one-day workshop promoting hands-on exchanges of music and conservation knowledge between communities in Indonesia and Australia. Musicians and instrument-makers from Wonosobo will teach participants to make the musical elements from bamboo materials, and then to assemble and tune the bundengan instrument.
Co-organisers: Professor Margaret Kartomi, Music Archive of Monash University, Sir Zelman Cowen School of Music; Dr Nicole Tse, Grimwade Centre for Cultural Materials Conservation, The School of Historical and Philosophical Studies, Faculty of Arts, The University of Melbourne; Dr Josh Stenberg,The University of Sydney, Southeast Asia Centre.
Principal Partner: The Helen Soemardjo Arts Fund. Other partners: Monash University – External Relations, Development and Alumni Office of the President and Vice-Chancellor; The University of Melbourne – Faculty Indonesia Strategy Group and School of Historical and Philosophical Studies; The University of Sydney – Sydney Southeast Asia Centre and Department of Theatre and Performance Studies; Universitas Gadjah Mada – Faculty of Engineering Mosman Art Gallery.
Collaborators: Aural Archipelago; Bianca Gannon; Jumaadi; Lisa Mansfeld Design; Ngesti Laras Foundation; Rosie Cook.