Percussive Virtuosity: Miguel Bernat in Concert
Performance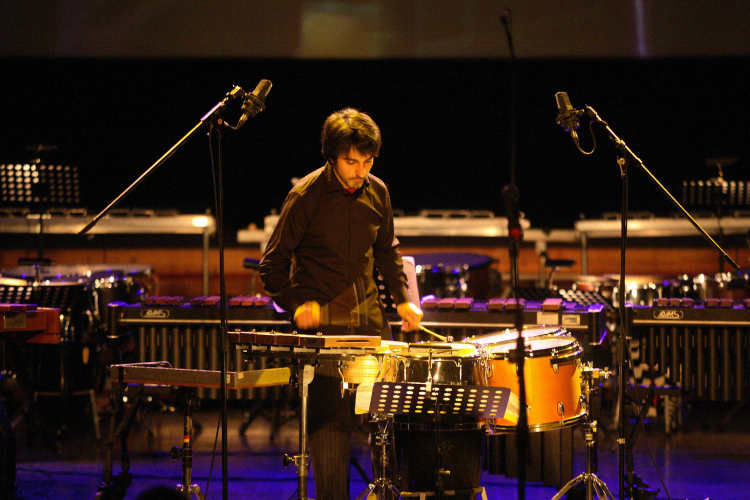 European percussion virtuoso Miguel Bernat, renowned for his work with the Duo Contemporain, Ictus Ensemble and his percussion group Drumming, presents a mixed percussion program, including a number of Australian premieres and a joint performance with the MCM Percussion Ensemble!
Miquel Bernat received his musical education at the conservatories of Valencia, Madrid, Brussels and Rotterdam, and at the Aspen Summer Music Festival (USA). He was granted the "Premio Extraordinario Fin de Carrera" at the Conservatory of Madrid, the Special Prize for Percussion at the Dutch Gaudeamus Competition and the 2nd prize at the Aspen Nakamichi Competition.
Being a musician of great versatility, he has played with the Orquesta Ciutat de Barcelona and with the Royal Concertgebouw Orchestra of Amsterdam, as well as in the contemporary music ensembles Ictus, Ictus Piano and Percussion Quartet, Trio Allures, Duo Contemporain, among others.
As a soloist in numerous performances, he has premiered concerti including the 'Concerto pour Marimba et 15 instruments' by David del Puerto, 'Campos Magnéticos' by Cesar Camarero with the Orquesta Nacional of Porto, Portugal and Mantis Walk in a Metal Space by Javier Alvarez, for Steel Drums with ensemble and electronics, at IRCAM/Centre G. Pompidou in París.
A passionate performer of new music, Miquel Bernat has worked with numerous composers, contributing to the expansion and evolution of music for percussion.