Three Rules for Effective Customer Problem Solving
Free Public Lecture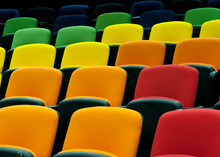 The Prest Theatre
Faculty of Business and Economics
Parkville
Further Details
Despite significant research and substantial corporate investment, resolving problems reported by customers remains a challenge for service organisations. Efforts made by organisations persistently lag customer expectations, and the rise of social media has given customers a powerful platform to amplify their frustration with ineffective problem solving.
A 2017 US study revealed almost 20 per cent of customers who reported a service problem required more than seven contacts before it was resolved; 80 per cent of customers who experienced a problem remained unhappy even after resolution efforts. In the US alone, the cost of not solving customer problems effectively is estimated at US$313 billion in future sales. Companies lacking effective problem resolution are, therefore, placing bottom-line outcomes at risk, with service organizations especially vulnerable.
Why is it so hard, and what can service organisations do to get ahead?
In this free public lecture, Professor Jagdip Singh will discuss the myths around frontline problem solving, identify which practices don't work, and provide fresh insights for service organizations interested in stemming losses from ineffective customer problem solving.