Look at the Lake: New Poems by Professor Kevin Brophy
Launch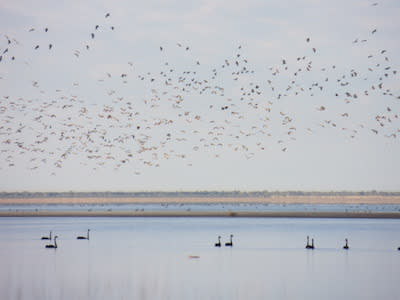 4th Floor Linkway
John Medley
Parkville campus
Further Details
To be launched by Tony Birch.
These poems were written across one year, mostly at the rate of a poem a day. The year was 2016. Kevin Brophy spent most of that year in the remote Aboriginal Community of Mulan on the edge of the Great Sandy Desert of Western Australia as a volunteer at the local school, a newcomer to the Kimberley, and as a visitor to this community. Look at the Lake is a selection of those poems, some of them commissioned by locals, all of them discussed with the elders of the Mulan community.
Mulan is home to the traditional Walmajarri speaking custodians of the Indigenous Protected Area (IPA) around Lake Paruku (Lake Gregory or Gregory's Salt Sea on many maps). These people have known this land along with its stories, songs and rituals for more than 40,000 years. In the dry season they visit the many important traditional sites around the lake, and they fire the red sand spinifex country during their hunting time. They still make use of the seasonal fruits, plants and vegetables in this semiarid desert. Art is important to the community, as is Australian Rules Football, music, and the education of children in the local school. The poems are frank expressions of respect and affection towards the place, the traditions, and the people who welcomed Kevin Brophy into their lives for those two years.
Look at the Lake is published by Puncher & Wattmann.
Image by Professor Kevin Brophy.