National Antimicrobial Resistance and Stewardship Forum 2018
Symposium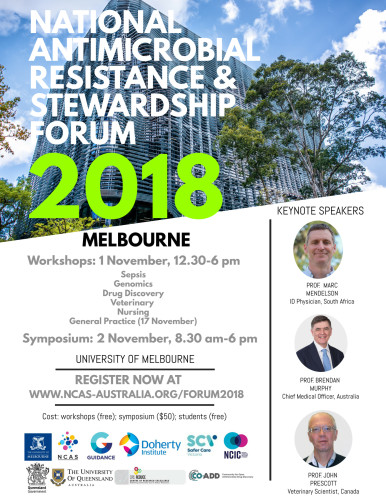 Arts West
Arts West, Building 148, via 30 Royal Parade (up Genetics Lane and past the Kenneth Myer Building)
Parkville campus
Further Details
T: (03) 8344 9750
This forum, organised jointly by a number of Australian clinical and research groups, will offer a dynamic program covering all facets of the response to antimicrobial resistance, including clinical infectious diseases and antimicrobial stewardship, translational science, new drug development, veterinary and agricultural medicine, and government, media and policy responses.
The symposium on Friday 2 November will be accessible to practitioners and the wider community. As part of the forum, a series of workshops focusing on different professional groups will be offered on Thursday 1 November.
Hosted by the National Centre for Antimicrobial Stewardship and Safer Care Victoria.