At a Crossroads: Making Sense of Modern Turkey
Booked Out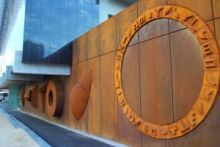 Latham Theatre
Redmond Barry Building
Further Details
FULLY BOOKED
During its initial rise to power, Recep Tayyip Erdoğan's AKP was lauded for its democratising reforms, which saw Turkey depicted as an island of stability and a democratic model for its regional neighbours. However, after 16 years under Erdoğan's rule, Turkey has witnessed a rapid rollback of its democracy, underscored by the continuing state of emergency that followed the failed coup attempt of 2016. Other critical domestic and regional developments in this period have further compounded the country's problems. Turkey is currently grappling with a growing terrorist threat, renewed conflict with the PKK and the continuing fall-out from the Syrian war, which has seen Turkish troops intervene militarily inside Syria. Turkey's changing geostrategic calculus and authoritarian shift have exacerbated tensions with the US and other NATO allies, and have stalled progress on Turkey's long sought-after EU membership bid. Turkey's 24th June election is set to formally end the country's parliamentary democracy in favour of a presidential system, adding to the uncertainty at this critical juncture in Turkish history.
The University of Melbourne is delighted to host two renowned experts in modern Turkish politics, Emeritus Professor İlter Turan and Professor Ersin Kalaycıoğlu, for a public lecture and Q&A discussion about some of Turkey's key domestic and geopolitical challenges.
This event is hosted by the Asia Institute's Islamic Studies research cluster.