Wine Quality and Style in the Face of a Changing Climate
Free Public Lecture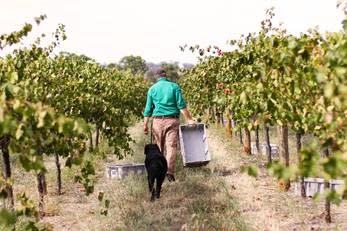 The Craig Auditorium
The Gateway Building (Next to University of Melbourne Sports Centre)
Parkville campus
Trinity College, Tin Alley
Further Details
T: (03) 8344 2071
Australian wine vintages have advanced by at least a day per year over the last 25 years under the influence of global warming. How has this dramatic change affected the quality and styles of Australian wines?
This Faculty of Veterinary and Agricultural Sciences wine forum, moderated by Professor Snow Barlow, will ask eminent winemakers, wine judges and journalists to tackle this critical question.
Globally wine vintages are occurring earlier each year as temperatures increase under the influence of climate change. Bernard Angelras, chairman of the French Institute of Vine and Wine and the French wine industry climate change working party, recently commented: 'Climate change is the new reality for the French wine industry.'
A number of Australian studies (including University of Melbourne research) have documented earlier vintages across most of Australia's 65 wine regions. Recent University of Melbourne research by postgraduate researcher Chelsea Jarvis has confirmed this trend and suggested that the rate of this change may be increasing. These earlier vintages result in grapes ripening in higher temperatures than previously. In some years these earlier vintages may also result in vintage compression, where grape varieties ripen together resulting in difficult logistical issues for wineries as they seek to harvest grapes of optimal maturity. The 2019 Australian wine vintage followed the hottest summer on record in most Australian wine regions.
The potential impact of these higher ripening temperatures and faster ripening on the chemical composition of the grapes and the quality and style of the resulting wine is an unanswered question. Measures of wine quality such as wine show average scores and wine critic evaluations show no evidence of any deterioration of wine quality over the past 20 years, while there has been a shift in awards and accolades away from the richer riper wines to those with crisper and lighter flavours and body. However, there is considerable comment on the possible misalignment between the development of flavour and sugar ripeness leading to higher sugar levels at harvest. This in turn could lead to higher alcohol wines with less and less natural acidity and therefore the need to develop adaptive strategies to combat the impact of higher temperatures.
The Australian wine industry and its winemakers are deeply engaged in responding to these climatic challenges. Viticulturalists are already experimenting with alternate grape varieties originating from hot areas as an adaptation strategy, or the use of "sunscreens" for the vines. Courtesy of excellent education programs, Australian winemakers are very well trained and capable of utilising innovative winemaking techniques and technologies such as the use of reverse osmosis in wineries to reduce alcohol content. In 2017, it became legal to adjust the sugar content of grape juice of musts to reduce the sugar level to a minimum of 13.5 Baumé to ensure manageable alcohol levels, healthy yeast ferments and the continuing production of high quality wines. At the same time as managing any climate challenges Australian winemakers are also strongly attuned to market demand and adept in changing wine style in response to the market.
This Faculty of Veterinary and Agricultural Sciences panel discussion will explore the observed and potential impacts of warmer summers on the quality and style of Australian wines, and provide an excellent opportunity to pursue these and other questions in an extensive question and answer session.