The Illimitable Freedom of the Human Mind: Thomas Jefferson's Ideas of a University
Free Public Lecture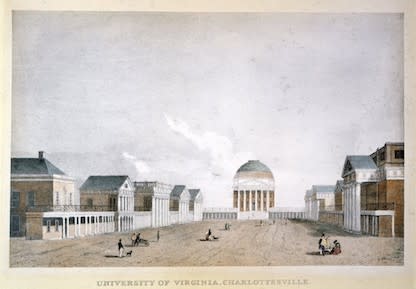 Kathleen Fitzpatrick Theatre
Arts West (148b)
The University of Melbourne, Parkville, Vic. 3010
Further Details
2019 Miegunyah Distinguished Visiting Fellowship Lecture
Thomas Jefferson regarded his founding of the University of Virginia as one of his three greatest achievements in life, together with the Declaration of Independence and the Virginia Statute for Religious Freedom.
Dr Andrew O'Shaughnessy will share how Jefferson's ideas continue to have relevance to public education in the United States to this very day.
Thomas Jefferson was intimately involved with every aspect of creating the University of Virginia. The execution of this project revealed his greatest talents as a lawyer who drafted the legislation; as a surveyor who personally mapped the grounds; as a politician who cajoled the assembly into supporting him against furious opposition; as an architect who designed the layout, chose the building materials and corresponded with the craftsman; and as an intellectual who developed an innovative curriculum, suggested the books for the library and the criteria for selecting the faculty. This lecture will argue that his vision contained many features that were unique within the United States and more progressive than what would be known as the Ivy League Schools.
A reception will be held immediately following the lecture in the Atrium Foyer of the Arts West Building.
This lecture is presented by The Research Unit in 'Enlightenment, Romanticism, Contemporary Culture' in the Faculty of Arts at the University of Melbourne.
Image: The University of Virginia, Charlottesville ©Thomas Jefferson Foundation at Monticello.